EMI Suppression Filters
single-phase, single-stage EMI Suppression Filters in a prismatic metal housing FA1 … PM
Devices and systems with limited installation space are often equipped with our single-phase, single-stage EMI suppression filters FA1 in a prismatic metal housing. These EMI suppression filters are characterized by a high electrical and mechanical sturdiness. The generously dimensioned creeping sections, air gaps and cooling surfaces of our encapsulated EMI suppression filters ensure a long lifetime and low failure rates. The filter effect is individually adjustable through a broad range of LCR-combinations. This type of filter is particularly suitable for the simple integration into control cabinets and is predestined for the retrofitting of devices.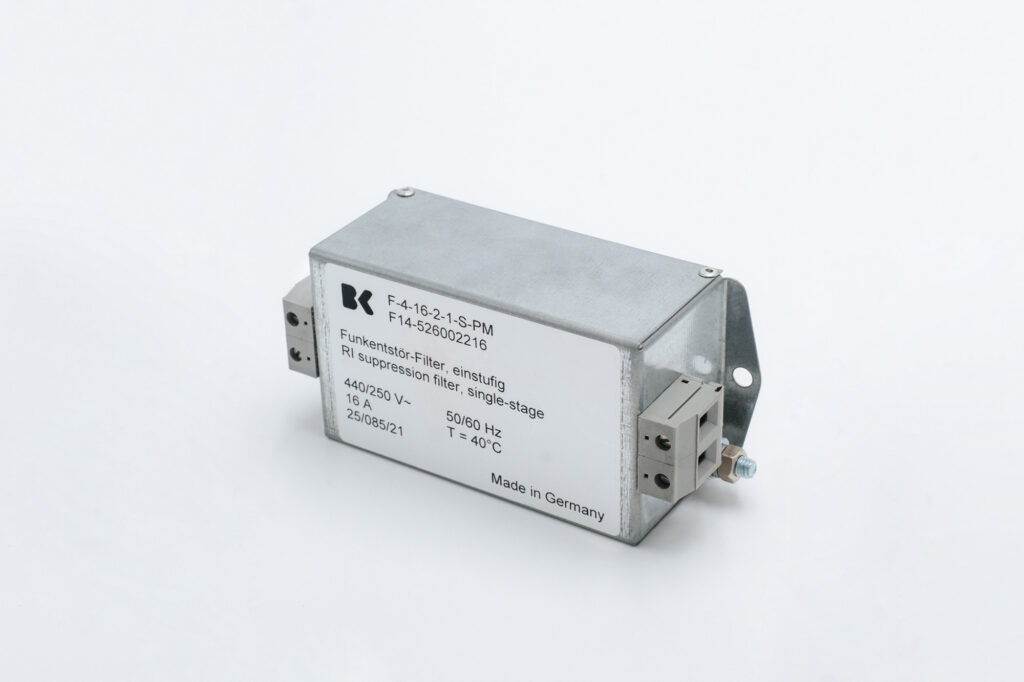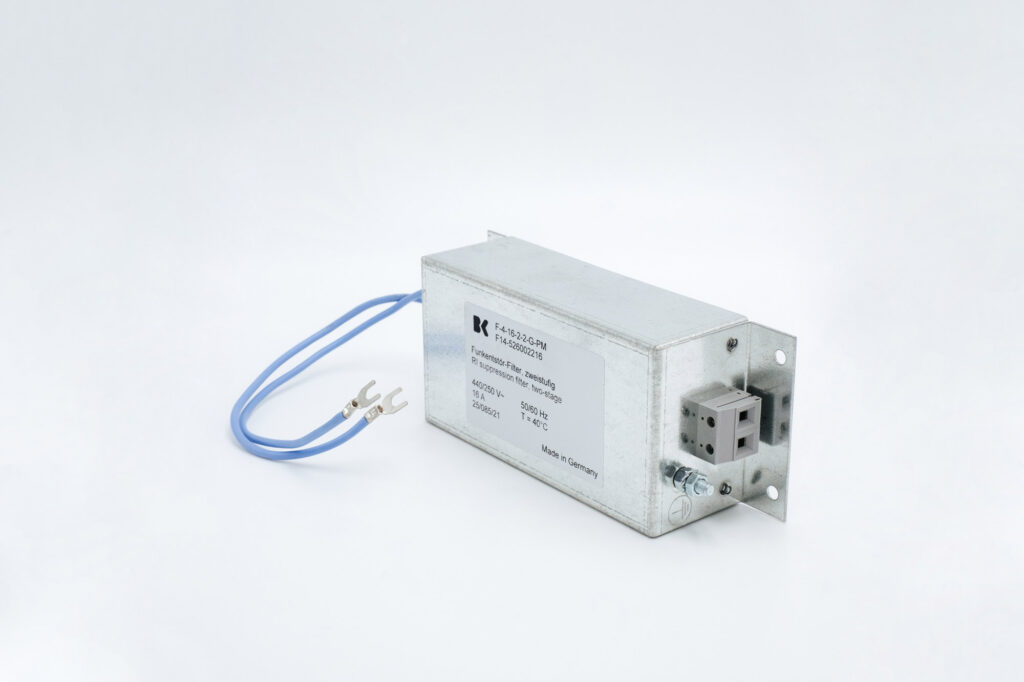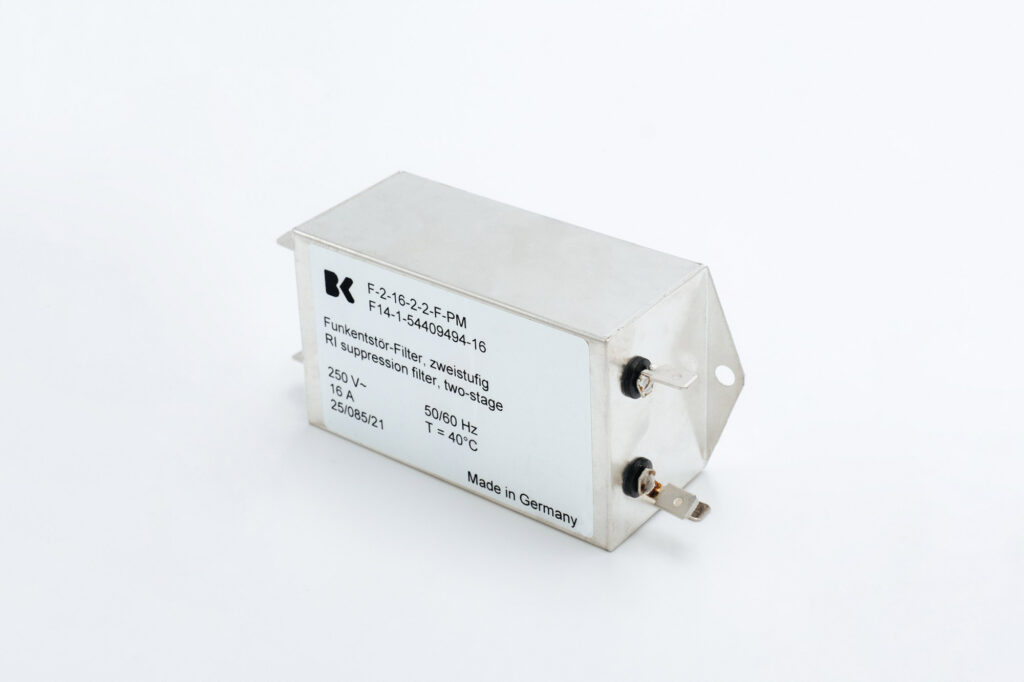 Description
RoHS- and REACH-compliant
single-stage filter
single-phase design
closed, compact construction in galvanized steel plate housing with screw-on lug
assembly via screws or rivets
varied connection possibilities with screwed contact terminals, wires or plug contacts
General technical data
| | |
| --- | --- |
| Phases | L and N |
| Filter Stages | one |
| Capacitance Tolerance | ± 20 % |
| Inductivity Tolerance | -30 % to + 50 % |
| Test Voltage Up | 4,3 UR |
| IEC 60068-1 Climate Category | 25/85/21 |
Our product key for your order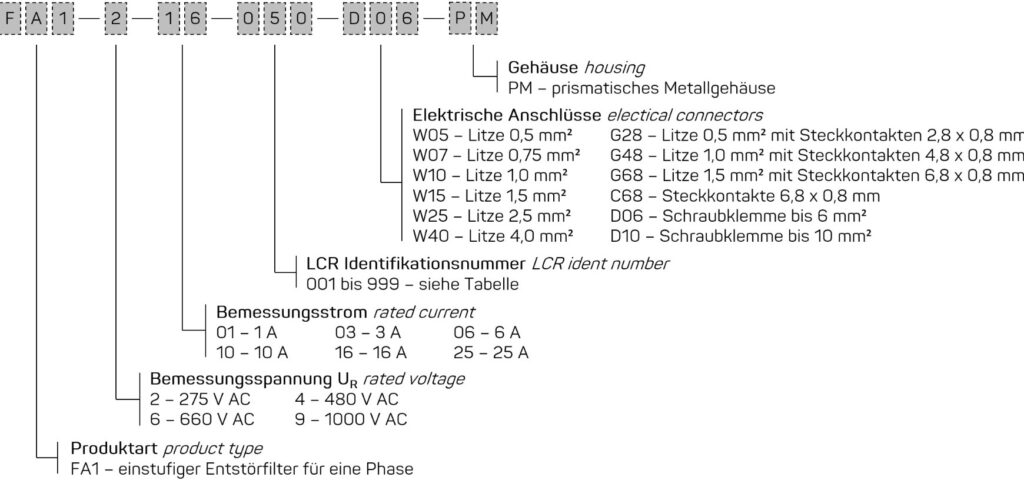 Please refer to the table below for detailed technical specifications of our EMI suppression filters in a prismatic metal housing FA1 … PM. We are prepared to customize these standard products according to your demands individually.
Product Key
Rated Voltage
Rated Current
Capacity X
Capacity
Y
Inductivity L
FA1-2-01-240-…-PM
275 V AC
1 A
0,1 µF
4,7 nF
2 x 12 mH
FA1-2-01-319-…-PM
0,22 µF
FA1-2-01-523-…-PM
0,47 µF
FA1-2-03-318-…-PM
3 A
0,1 µF
2 x 6 mH
FA1-2-03-264-…-PM
0,22 µF
FA1-2-03-522-…-PM
0,47 µF
FA1-2-06-317-…-PM
6 A
0,22 µF
2 x 3 mH
FA1-2-06-521-…-PM
0,47 µF
FA1-2-06-607-…-PM
0,68 µF
FA1-2-06-317-…-PM
10 A
0,22 µF
2 x 3 mH
FA1-2-06-521-…-PM
0,47 µF
FA1-2-06-607-…-PM
0,68 µF
FA1-2-16-520-…-PM
16 A
0,47 µF
2 x 2 mH
FA1-2-06-606-…-PM
0,68 µF
FA1-2-16-709-…-PM
1,0 µF
FA1-2-25-519-…-PM
25 A
0,47 µF
2 x 1 mH
FA1-2-25-605-…-PM
0,68 µF
FA1-2-25-708-…-PM
1,0 µF
FA1-2-36-519-…-PM
36 A
0,47 µF
2 x 1 mH
FA1-2-36-405-…-PM
0,68 µF
FA1-2-36-708-…-PM
1,0 µF