EMI Suppression Filters
single-phase, single-stage EMI Suppression Filters in a plastic housing with RAST connection FA1 … R05-PK
The main field of application of our single-phase, single-stage EMI suppression filters FA1 in a plastic housing is in high-quality, durable domestic appliances. Stainless metal contacts, high-quality EMI suppression capacitors and powerful chokes ensure a long product lifetime. A fast assembly in mass production is possible due to the RAST-5 plug connection, the ground lug and the flat plug connections. A subsequent replacement is very easy thanks to the standardized plug connections.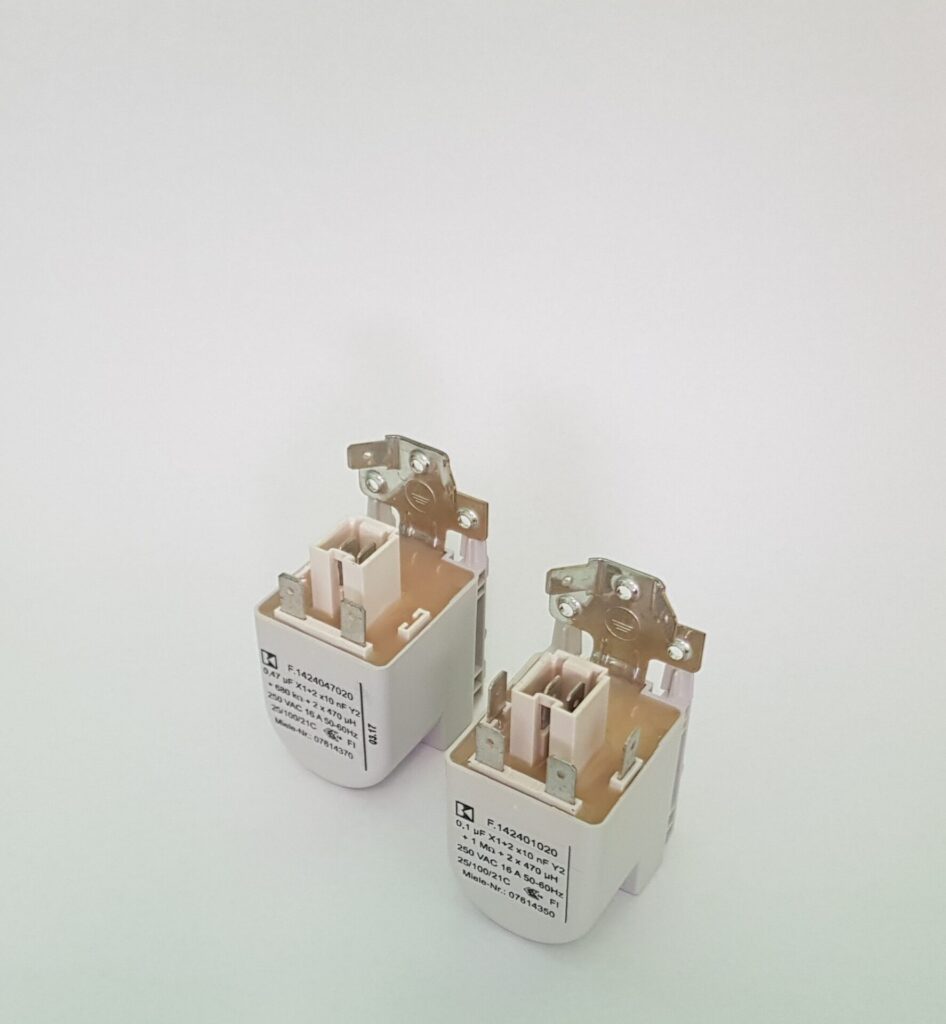 Description
RoHS- and REACH-compliant
single-stage filter
single-phase design
closed, compact construction in fully potted plastic housing
connection via ground lug, RAST-5 plug contact and blade plug contacts
General technical data
| | |
| --- | --- |
| Phases | L and N |
| Filter Stages | one |
| Capacitance Tolerance | ± 20 % |
| Inductivity Tolerance | -30 % to + 50 % |
| Test Voltage Up | 4,3 UR |
| IEC 60068-1 Climate Category | 25/85/21 |
Our product key for your order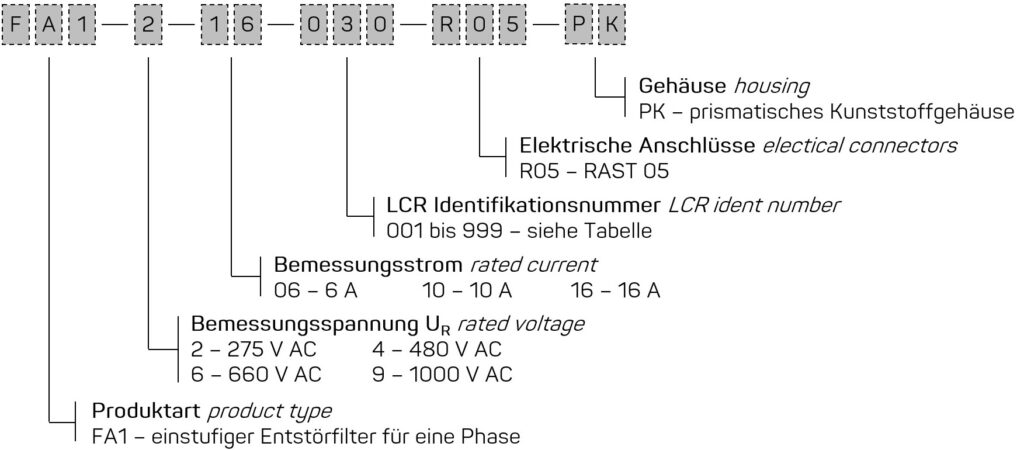 Please refer to the table below for detailed technical specifications of our in-house manufactured single-phase, single-stage EMI suppression filters in a plastic housing with RAST connection FA1 … R05-PK. We are prepared to customized these standard products according to your demands individually.
Product Key
Rated Voltage
Rated Current
Capacity X1
Capacity Y2
Inductivity L
FA1-2-16-221-R05-PK
275 VAC
16 A
0,1 µF
2,2 nF
2 x 0,5 mH
FA1-2-16-235-R05-PK
4,7 nF
FA1-2-16-242-R05-PK
10 nF
FA1-2-16-519-R05-PK
0,47 µF
4,7 nF
2 x 1 mH
FA1-2-16-525-R05-PK
10 nF
FA1-2-16-531-R05-PK
22 nF
FA1-2-16-605-R05-PK
0,68 µF
4,7 nF
2 x 1 mH
FA1-2-16-610-R05-PK
10 nF
FA1-2-16-615-R05-PK
22 nF